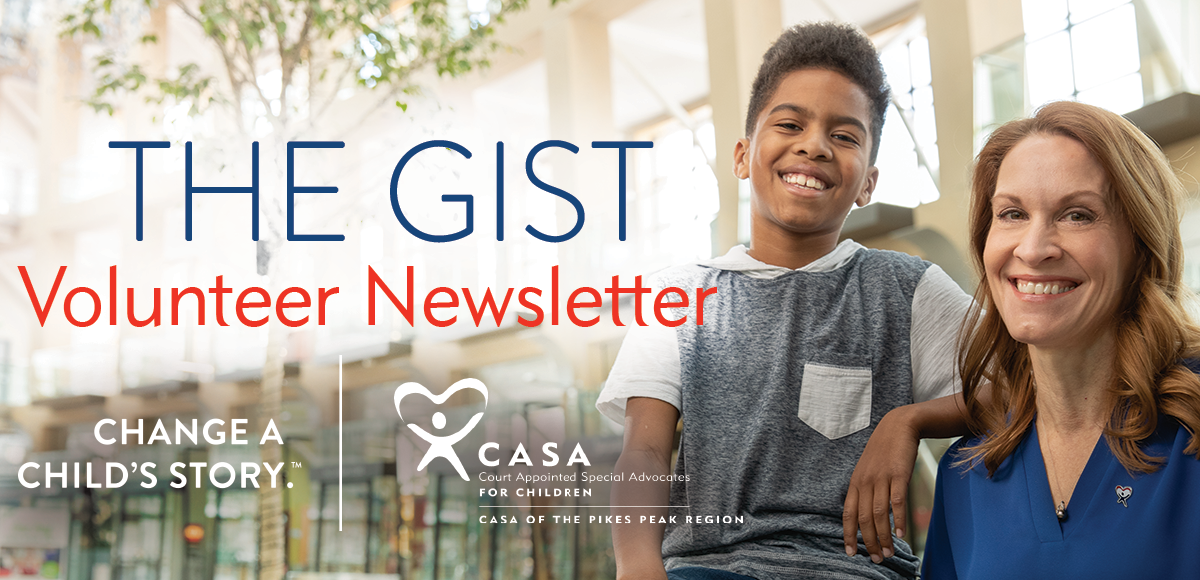 October 2020: News, Updates, and Opportunities for CASA Volunteers
Letter from the Executive Director
Dear CASA Volunteers,
It was great to see so many of your faces at the volunteer appreciation gatherings we held last month, whether you attended one of the mini in-person events or the virtual event on Zoom. I miss seeing you all more frequently!
Just as we adapted our volunteer appreciation gatherings to the world we currently live in, we also continue to adapt and move forward in other areas as well. Our first-ever Virtual Light of Hope Teller and our first-ever Light of Hope North Livestream are both taking place this month, on Oct. 20 and 27 respectively. Over the last several years, these events have been important in-person fundraisers for CASA and we are excited to garner the community's support through virtual formats for 2020.
Speaking of virtual events, the final training class of 2020 began online this week with a swearing-in date set for mid-November. The next classes we plan to offer will begin Jan. 15 and Feb. 19. We have several volunteer information sessions coming up if you have friends or family members who are interested in becoming CASA volunteers. Pass this link on to them to sign up for an info session.
I hope you all are doing well and staying healthy as we look forward to the year's end. If you have any questions or concerns, please do not hesitate to reach out to me at angelar@casappr.org.
Warmly,
Angela
Stock up at the Kids' Closet!
It's time to make sure your CASA kiddos are ready for cooler weather! Stop by the Kid's Closet October 26-30 to get pajamas, socks, jackets, boots, and more! Make sure you come prepared with your CASA child's sizes.
New staff members join CASA!
Everyone at CASA is very pleased to introduce you to our newest staff members - Michael Mersman and Laurel Abrahamsson. Michael is our new Volunteer Recruitment Manager and Laurel is our new SEPT Volunteer Coordinator.
Milton Foster Children's Fund News
Teen programs are virtual through the end of 2020 but that doesn't mean we can't come up with some fun, engaging activities! Each month, a video link is sent to teens along with some questions. Teens that respond with answers are placed in a drawing for a $15 Walmart gift card.
News from The Hanger
Make sure your CASA teen gets outfitted for fall and winter by signing up for a shopping slot at The Hanger. Right now, Halloween treat bags are available for teens during Hanger shopping appointments. You can also stop by the office during the week to pick up a treat bag for CASA kids 12 and up only.
The holiday season will be here before you know it and if you have a teen in foster care, they are eligible to receive a holiday gift card to Walmart, Amazon, or Target. Please click here to sign up your teen by Monday, November 30th.
October 2020 Anniversaries
This October, we are celebrating 24 volunteer anniversaries in our D&N, Life Long Links, MFCF, and SEPT programs - including the 13-year anniversary of SEPT Facilitator Minta Rodd and the 12-year anniversary of Advocate Ann Shikles.
Inclusion Corner: Join National CASA Book Club by Oct. 23
National CASA is currently running a Diversity, Equity, and Inclusion Series in its book club which is open to all CASA staff and volunteers nationwide. If you'd like to join the National CASA book club in time for the next reading, please do so by October 23 by clicking here to sign up now.
CASA of the Pikes Peak Region
418 S. Weber Street, | Colorado Springs, Colorado 80903
719-447-9898 | kerik@casappr.org