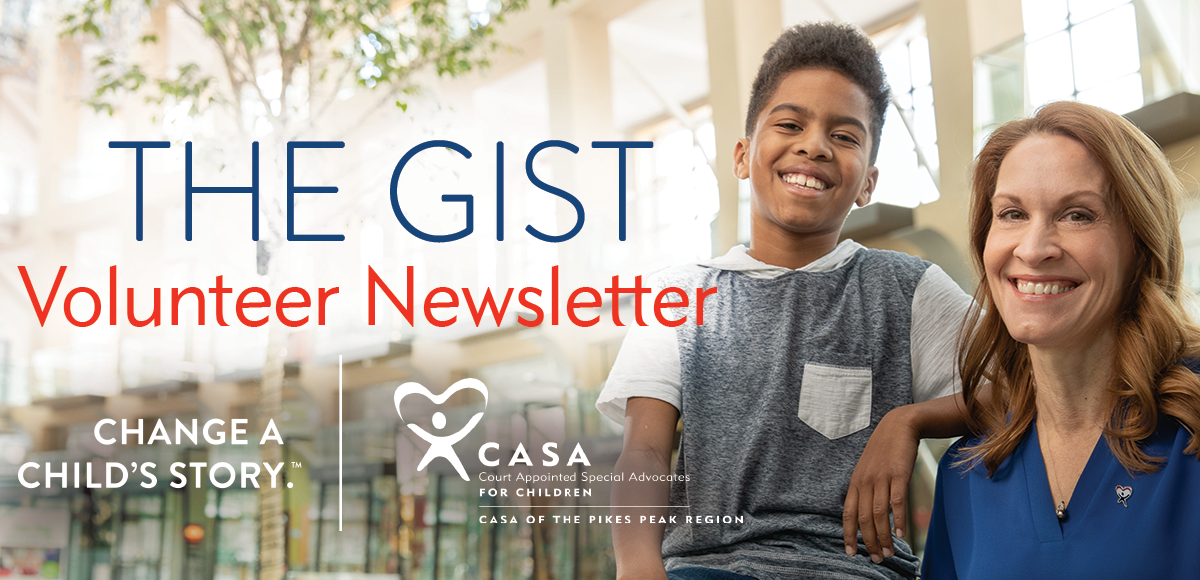 September 2020: News, Updates, and Opportunities for CASA Volunteers
Letter from the Executive Director
Dear CASA Volunteers,
Fall is in the air! I hope you and your family are looking forward to the season, whether it be the changing of the Aspens or apple cider on a crisp evening.
Now that we are about six months into this challenging time, I want to share how grateful we are at CASA for the community's support. Did you know that as of today, we have sworn in 55 brand new advocates virtually since social distancing began in Colorado? I feel honored to work alongside people like you who, even during one of the most trying times in American history, choose to stand by our most vulnerable citizens.
Your hard work is appreciated and though we can't host a large gathering to show our appreciation this year, we do hope to see your faces at one of our mini in-person gatherings planned for this month, or at the virtual event slated for Sept. 28. If you missed the email about these Volunteer Appreciation Events, you can find more information in the "Upcoming Events" section below.
I hope you all are staying healthy and safe. If you have any questions or concerns, please do not hesitate to reach out to me at angelar@casappr.org.
Warmly,
Angela
New volunteers join CASA!
Thirteen new Court Appointed Special Advocates and five new Supervised Exchange & Parenting Time Facilitators were sworn in during CASA's Zoom swearing-in ceremony this week!
Milton Foster Children's Fund News
Teen programs are virtual through the end of 2020 but that doesn't mean we can't come up with some fun, engaging activities! Each month, a video link is sent to teens along with some questions. Teens that respond with answers are placed in a drawing for a $15 Walmart gift card.
News from The Hanger
Shopping is back at The Hanger on Saturdays by appointment only. Fall and winter clothing will be out starting Sept. 26 so make sure you sign up for a shopping slot here. We are once again taking donations for The Hanger, Mondays through Fridays from 8-5 and we ask that you drop off donations at The Hanger door.
September 2020 Anniversaries
This September, we are celebrating five milestone anniversaries. Congratulations to the following change makers for their one-year CASA-versary: Darnell Fawcett (D&N), Alexander Geng (D&N), Madison Kurtz (MFCF), Timothy Perkins (D&N), and Susan Varnier (D&N)
Inclusion Corner: Fall Session of Diversity University
CASA staff and volunteers enjoy attending Diversity University, a program designed to improve the ability of professionals and the community to respond to the needs of a culturally diverse population. Children of Color, Inc and High Plains Church Unitarian Universalist are excited to offer a fall session of Diversity University in seven two-hour installments beginning Sept. 30, 2020 and culminating Dec. 16, 2020. The sessions will be held from 6:30p.m. to 8:30p.m. on Zoom. The cost is $10 per session. Registration is here.
One year with CarePortal
One year ago, CASA partnered with CarePortal and has seen 50 requests answered by individuals, churches, and businesses with donations valued over $12,000! CarePortal has helped our CASA kids acquire plane tickets to visit family, new computers, bedding, gift cards, ,art supplies, clothing, tutoring, car seats, and so much more!
Brand New Formals on Clearance!
All of the brand new formal dresses donated to CASA by Macy's have been marked down to $10 for the final blow-out sale! There is still some inventory left and dresses can be picked up Monday-Friday from 8-5 at the CASA office.
COVID-19 Protocol Reminders
As a friendly reminder, all office visitors must answer health screening questions prior to entering the building. Also please remember to sanitize your hands upon entry and wear your mask in the building. Because we are at 50% staff in the office right now, appointments are highly encouraged. If staff is not available at the front desk, you will see a sign directing you to call the office number for assistance. Thank you all for your continued understanding and cooperation!
CASA of the Pikes Peak Region
418 S. Weber Street, | Colorado Springs, Colorado 80903
719-447-9898 | kerik@casappr.org